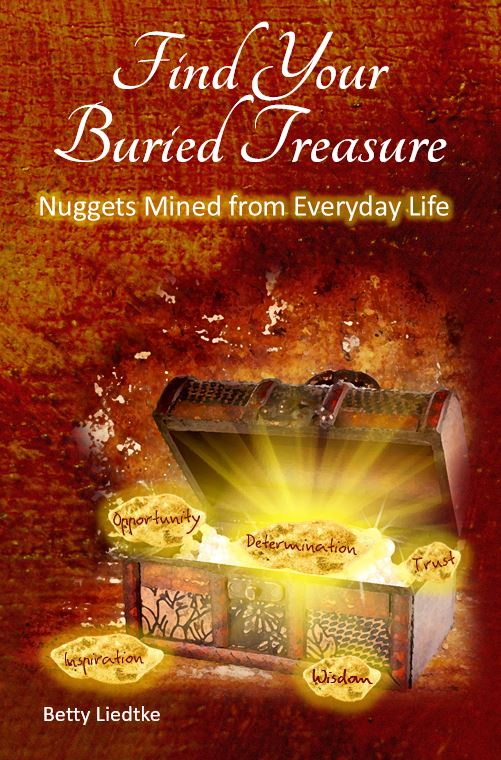 There's treasure all around us. Here's how to find yours!
Betty Liedtke is an award-winning newspaper columnist and the Founder/CEO of Find Your Buried Treasure™. Her mission in life is helping people to see the gifts, skills, strengths, and talents they don't even realize they have, and inspiring them to use these gifts to change their lives and the world. A survivor of cancer and severe heart damage from chemotherapy, Betty has learned to always look at the bright side of any situation or experience, even when she has to dig to find it.
Some of the nuggets you'll find in this book:
Chapter 2, The Pretzel Pose: Push, pull, and stretch. Work a little harder, and reach a little farther, but don't do anything that hurts.

Chapter 9, Nothing to Fear: Never get so caught up in thinking about life's dangers that it keeps you from enjoying life's many delights.

Chapter 14, Fortune Cookie: It's a gift to see beauty in everyday things. Treasure this!
Praise for Find Your Buried Treasure—Nuggets Mined from Everyday Life
"Betty Liedtke is like a wise and friendly neighbor with whom you have insightful and entertaining coffee dates. Her columns celebrate the delight in the daily, the richness in routine. That the reader is given nuggets of wisdom as well as homework to mine their own treasure is an added bonus!"
—Lorna Landvik, Author of ten novels, including the best-selling Patty Jane's House of Curl and her most recent book, Best to Laugh
"There are many treasures to be found in your life. Betty comfortably and entertainingly shares part of hers to make it easy for you to find yours. Use this book as a map and you will uncover a treasure trove that will forever enrich you."
—Dana LaMon, Motivational speaker and author of four books, including The Excellence Book and Making the Moment Meaningful
"There are a few books that I re-read every year. I will be adding Find Your Buried Treasure—Nuggets Mined from Everyday Life to that list. This book is an AWESOME read, from cover to cover, and each chapter can stand alone as a great lesson. Whether you are relaxing in a hammock on a Sunday afternoon, or only have a few minutes, keep this book with you for a quick change of outlook, change of attitude, or change of life."
—Stephen Shaner, Author of The Art of Being Awesome